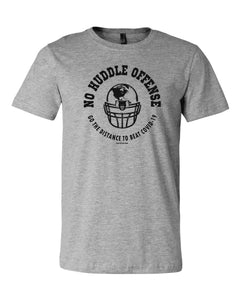 FIGHT COVID-19 NO HUDDLE OFFENSE
Regular price $25.00 Sale
COMMIT TO A NO HUDDLE OFFENSE!
SOCIAL DISTANCING WORKS!
G   O      T   H   E
   D   I   S   T   A   N   C   E   ! 
YOU MIGHT NOT BE ABLE TO SEND A HUG, BUT YOU CAN SEND A COMFY SHIRT AS A GIFT!
COVID-19 HAS AFFECTED ALL OF US IN SOME WAY. WE ARE SO THANKFUL FOR THOSE ON THE FRONT LINE FIGHTING THIS PANDEMIC, FOR THEIR EFFORTS AND RESOLVE.
THE PROCEEDS OF THESE SALES WILL GO DIRECTLY TO PPE FOR LOCAL MEDICAL FACILITIES AND TO SUPPORT LOCAL SMALL BUSINESS BY COVERING MEALS FOR MEDICAL STAFF FIGHTING COVID-19
ALL ITEMS ARE PRINTED, PACKED AND SHIPPED IN A LOCAL LOCKED DOOR SHOP WITH A MINIMAL CONTACT PROCESS. PLEASE KEEP IN MIND, THERE WILL BE A NO RETURN\EXCHANGE POLICY AT THIS TIME
feel free to direct and concerns or questions to the1seedapparel@gmail.com 
please be safe and stay well. 
(this item will take 6-8 business days from time of order to ship)
this product, graphic design and any others found or depicted on this site or social media accounts managed by this site, are in no way affiliated with, endorsed, licensed or approved by any team, player or professional organization.